The original cloaks
As part of the regalia for the Investiture of our first King and Queen, the Worshipful Company pf Broderers held a competition to design a pair of cloaks for the ceremony. Master Bartolomeo Agazzari produced the successful design, based on the Mantle of Christ and The Syon Cope, both of which feature a solid band of embroidery along the front edge.
The motifs for the cloak feature an 8 pointed star, with symbols of each of the Peerage Orders repeating along the length of the cloak (Order of the Laurel, the Chivalry, Order of the Pelican). In between each of these are displayed the badges of the Crown and the Consort.
The original cloaks were made from a gold brocade (referring to the West Kingdom), lined with heavy blue fabric for the Midwinter Coronation. The bands were worked in tent stitch, in silk on 20 count linen canvas. The 52 pieces took over 1000 hours to complete. The project was funded by the Rowany Fighter Auction Tourney fund.
The finished cloaks were completed in time for King Alfar and Queen Elspeth to wear at the first Coronation in the Kingdom of Lochac in July 2002, and were worn for many years thereafter.
The updated cloaks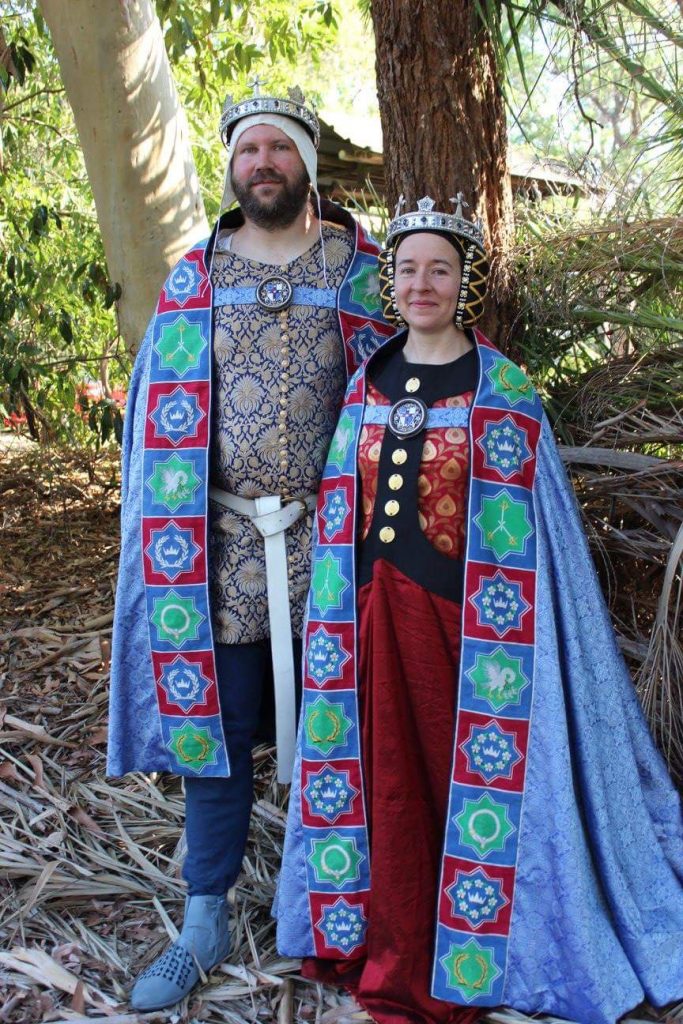 After many years, the cloaks fell into disuse – although am important item of regalia, they were hot to wear and heavy to transport. And the yellow brocade did not go well with the Lochac colours that our Kings and Queens wear for their investiture.
In 2016, Company of Broderers undertook a project to renovate the cloaks, replacing the original fabric with fine blue and silver silk brocade (our Kingdom colours), with linen interlining and fine silk lining, reducing the weight by 2/3. At the same time, we took the opportunity to add the new Peerage Order to those represented on the band – the Masters of Defence. These new pieces were worked to match the original and blend seamlessly.
The renovated cloaks were worn by TRM Rowland and Tailltui at their investiture in January 2018, and have been used ever since.