The Lochac Order of Grace (LoG) was established in 1989 by TRH Valerian and Rowena while Lochac was still a Principality, and was retained by the new Kingdom. The award is given only once each reign to that person whom Their Majesties find most gracious amongst Their subjects. The device of the award is "Gules, a hart courant Or between three mullets of six points argent", registered to the Kingdom of Lochac.
The token of the order is a favour or pouch bearing this device. In the early years of the Order, there was no method of sourcing these pouches , so many recipients of the LoG did not receive a physical token. The Worshipful Company of Broiderers offered to repair this omission by presenting a supply of pouches for past and future recipients.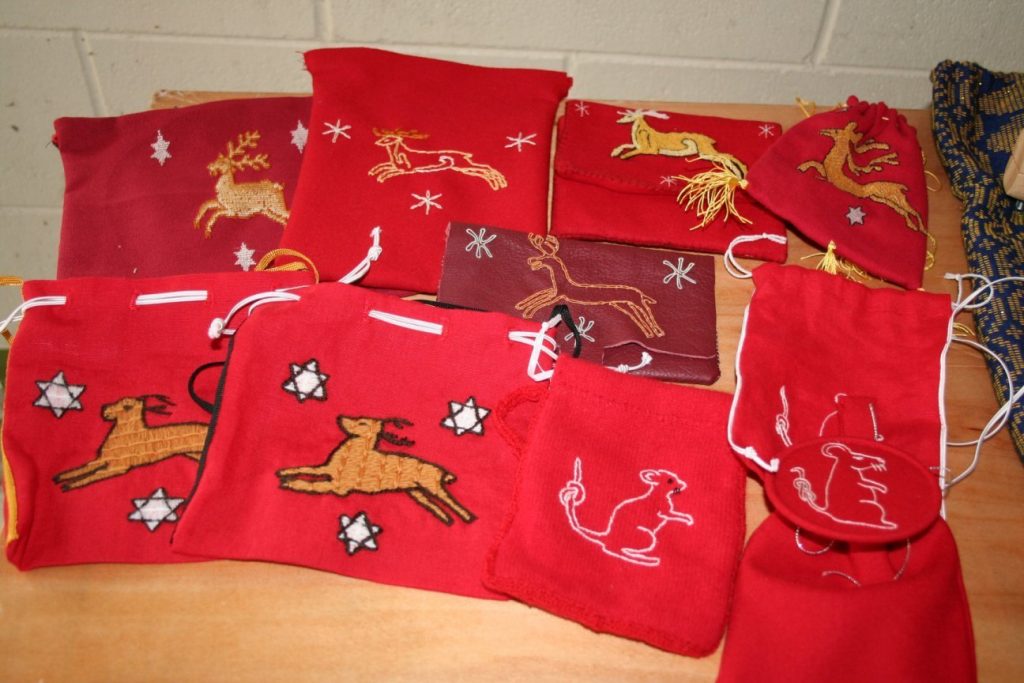 Since the Company strives for historical accuracy, it was important that the designs of the pouch, the materials and the embroidery style are all historically accurate. Since the recipients come from many times and places, the Company has developed a range of pouch designs to suit the various personae, in various different embroidery styles.
Designs
The following links will load a PDF file containing background, materials list, construction guide and pattern for that particular period/styles. With the exception of the Viking pouch, the pouches are all of the drawstring style. The drawstring pouch was in use by both men and women throughout our period, so the style is universally applicable. Many other pouches or purses were also in use during our period, but most of these were made of leather and were not embroidered.
Company members are also free to design their own LoG pouch in a different style. Please check with the Guildmaster before starting work, to ensure it meets all the necessary criteria.
Viking Chain Stitch
Anglo-Saxon Couched and Laid
13th Century Applique
14th Century Split Stitch
15th Century Brick Stitch
16th Century Goldwork
16th Century Tent Stitch/Detached Buttonhole
Gallery
Here are some examples of pouches completed by the Company and presented to Their Majesties each Midwinter and Twelfth Night, to be given to the recipients of the Lochac Order of Grace.